Once again it is that time of the year when Celebrities have emptied the botax vials and plastic surgeons are resting from the over time work have worked deep into the night to get those spectacular human sample look even more "perfect" and then we are on to hair sty;list, makeup artists and us Image consultants work till the last minute, at ties in the limo on the way to the ceremonies trying to make up their minds what to wear and what will pace them on the worst or the best dressed list. `
This year Academy awards mean much more to me then any other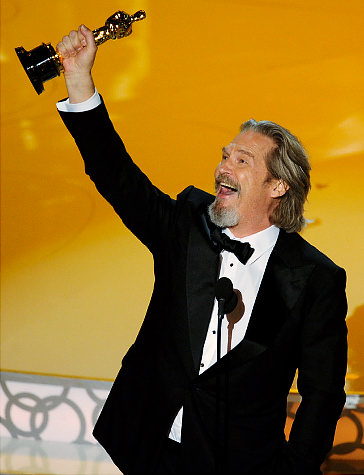 When Jeff Bridges' name was called they could hear me screaming in Alaska. I had the great pleasure of working with Jeff on a project committed to ending hunger in the world in the 80's and also spent the day with his parents. From this man, I learned that good looks, generosity, kindness, talent and integrity can come in one package, what and honorable man, it couldn't happened to nicer guy. CONGRATULATIONS!!!!!!!!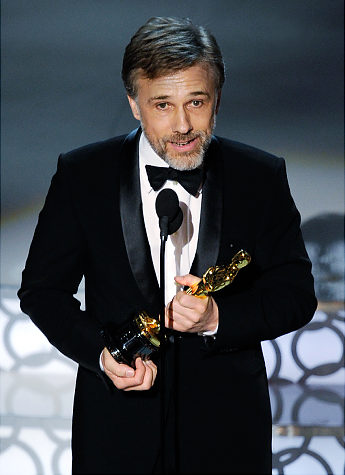 Austrian, Christoph Waltz, such an eloquent acceptance speech covered with a ton of charm and charisma upon receiving an Oscar for his memorable role in Inglourious Basterds for Best Supporting Actor.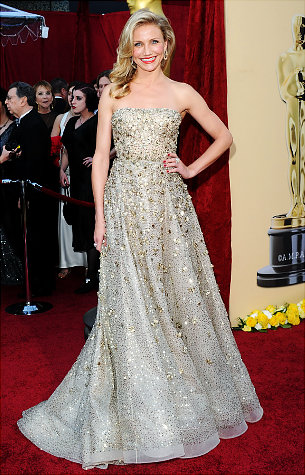 Alleluia!!!!!! This is the day I been waiting for. Carmen Diaz in a glittering Oscar de la Renta gown, looked regal and so gorgeous, all grown up and finally her fashion image matches her physical image. GORGEUS!!!!!! Her hair and jewels worked in harmony, stunning!!!!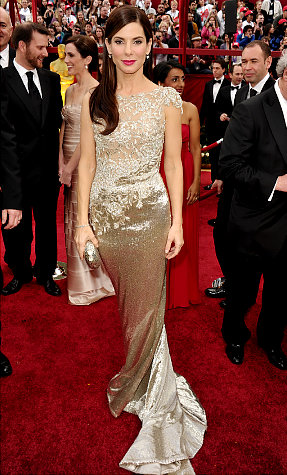 2010 Best Actress winner, Sandra Bullock, looked breath taking in a golden Marchesa gown. Exquisite. Superb!!!!!!!! Her stylist knows what she/he is doing. However, RED lipstick didn't work with soft and elegant colors of her gown.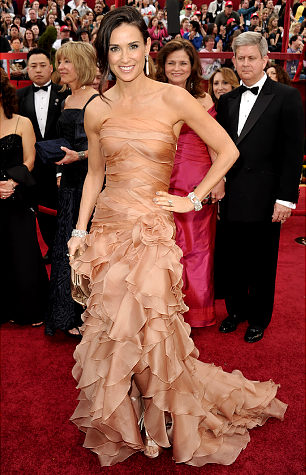 Demi Moore, simply stunning in this ruffled silk organza gown from Atelier Versace. In every sense of the word, superb!!! What a stunning women she turned out to be, a knock out. Hurray for Versace and Demi, what a great combo, two extraordinary creations.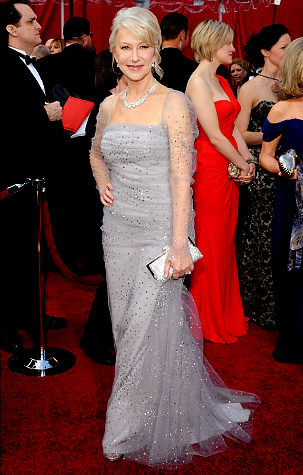 Exquisite as always, Helen Mirren, in Badgley Mischka gown and Chopard jewels, never fails to stand out with beauty and elegance, absolutely an inspiration for all those over 39. Stunning and sexy.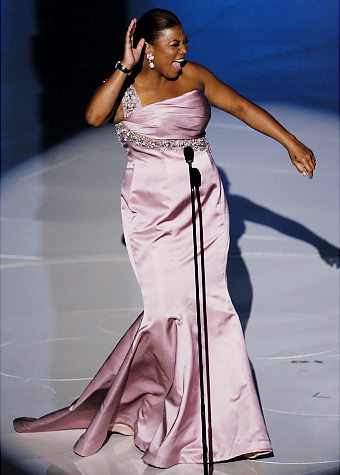 Big as life itself, beautiful Queen Latifah, ruled with a huge personality and elegance in a beaded lavender gown accessorized with diamonds and pink sapphires. She owns it up!!!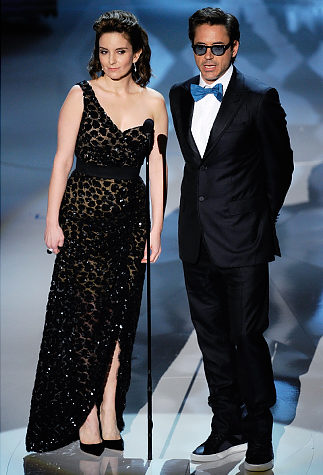 Killed two birds with one picture, the worst dressed pair of the night, Tina Fey and 'Iron Man II' star Robert Downey Jr. presented the Oscar for Best Original Screenplay. "OUCH"!!!!!!!!!!!!!! Fire your stylists!!! Loved her hair do, keep the hair stylist. ☺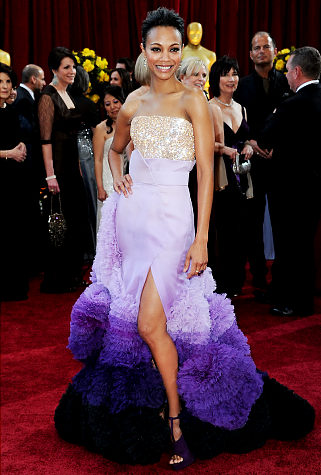 Zoe Saldana, the Avatar star wore Givenchy Haute Couture or it wore her, too much for her slender figure. What a shame!!!!! Great for scrubbing the floors. Dispose of the lower portion of the gown, donate it to a striper and you'll have a gown perfectly fit for lovely and talented newcomer.
And what happened to Charlize Theron, in Christian Dior, rose designed detail (looked more like red cabbage heads) focused on her breasts, took away from the previously best dress icon. Disappointing!!!!! But she is a knock out no matter what she wears.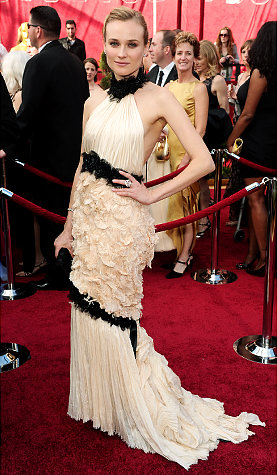 Lord have a mercy!!!!!! What a disaster, don't they use mirrors?? Diane Kruger, from "Inglourious Basterds" in couture Chanel gown gave fashion experts and non-experts something to talk about it, sadly not by a memorable image worthy of this talented actor. Looking at it makes me dizzy.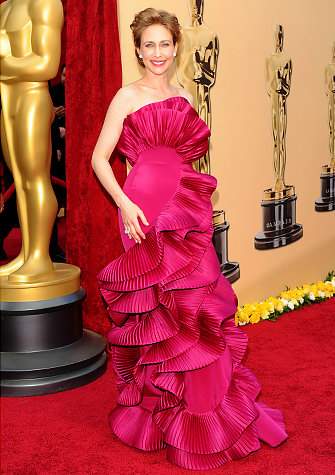 Vera Farmiga, from 
 'Up in the Air' in this fuchsia ruffled Marchesa gown, failed badly. "Slinky, slinky everyone loves a slinky," however, sadly no one loved this gown, too much, too much and too much!!!!!! Just it shows all that is expensive (couture always is) isn't beautiful.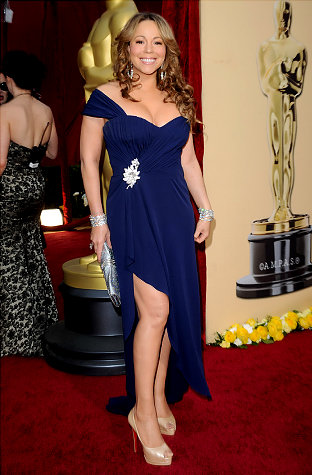 Mariah Carey, shows a whole lot of everything, in Valentino gown. Too much glitz and too much tit. There wasn't a focal point in here, you didn't know where to look first. The shoes, what did they have to do with such elegant event like Oscars? With all that money and she showed up dressed like this for Oscars?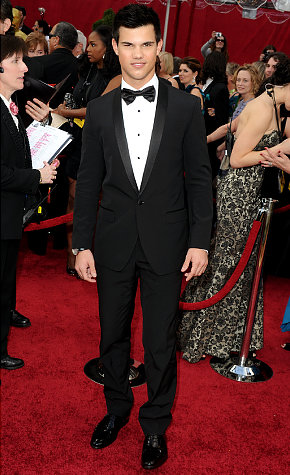 Taylor Lautner, young cutie looks like he just got if the set of "Avatar" in this retro look, something from the 50's. Just ok.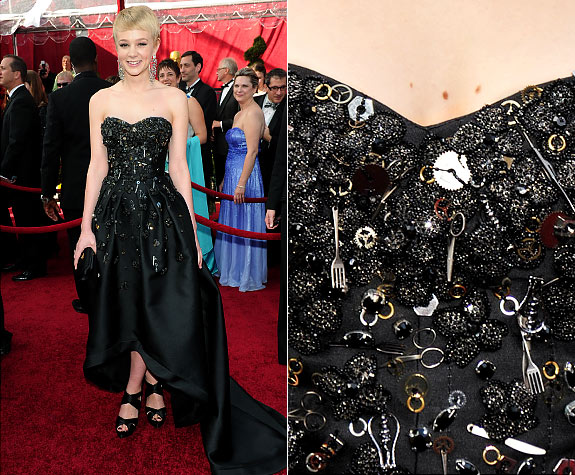 The most original. Best Actress nominee Carey Mulligan in an unorthodox design by Prada created her own category, the most original, a pioneer taking a chance on uncharted image and making her own statement. When you are this cute and so very young, you can get away with anything and she succeeded magnificently.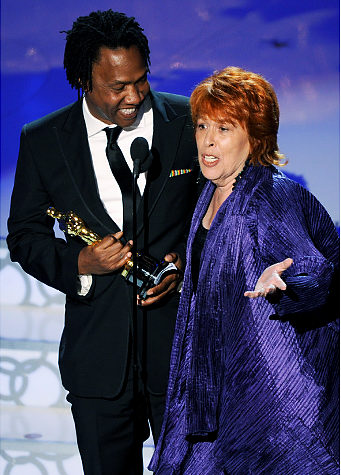 Most embarrassing moment of the evening came when this intrusive and loud person, Elinor Burkett, rudely interrupted the most personal moment for director Roger Ross Williams as he accepted the Oscar for Best Documentary, for Music by Prudence. What a gracious man.
discount viagra perscription drug Viagra Non Perscription Deal Sale sale of viagra
renova viagra renova Sale Of Viagra In Uk generic viagra cheapest
off label use viagra! Viagra Sale Online A Href cheapest uk viagra
viagra mg pharmacy online! Viagra Sale Online viagra users group
viagra as a aphrod Generic Viagra On Sale brazil viagra
viagra pill splitting Europe Online Sale Viagra viagra manufacturing
line prescription viagra Viagra For Sale In Gibralter cheapest viagra and regalis
viagra videos! Generic Viagra For Sale viagra for woman study
viagra chrismas, Viagra Uk Sale internet viagra