This event is considered by many to be a precursor to what will come in Oscar's nominations… a tension filled event with many hopeful anticipating that when the evening is over presenters will have called their name and the globe will be theirs.
While the evening was reminiscent of the days when glamour ruled the red carpet, most of the men looked sharp and elegant and the majority of the ladies were stunning. Plastic surgery is a profession to be in, today.
Glamour is back and living in Hollywood and the stars here shined brightly in our town tonight. In this town where money rules, a different side of Hollywood showed up tonight as the winners accepted their awards and touched our hearts most profoundly, thanking their families and those that no longer are living but are watching from heavens doors. Hollywood with heart.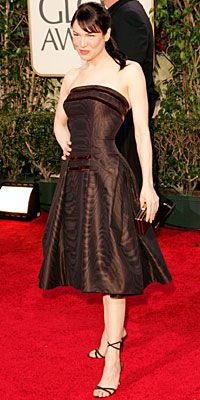 The Foreign Press Golden Globe Awards started with last year's winner as a presenter and this year's nominee, looking cute in a brown strapless cocktail dress by Carolina Herrera… not her usual glamour, but as always-the fabulous Rene Zellweger.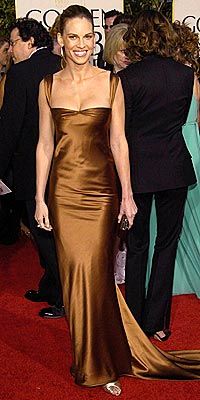 Hilary Swank looked beautiful in a chic brown Calvin Klein superb creation as the recipient of best actress award. Stunning!!!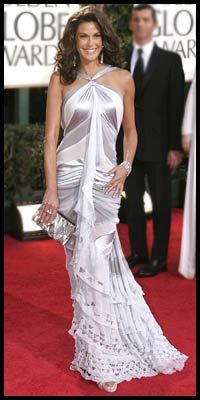 Congratulations to Teri Hatcher of Desperate Housewives who looked stunning in her beautiful Donna Karan silver gown, while she shined with pride and natural beauty. The dress, on a scale of 1-5, I give it 3, too busy, had too much going on.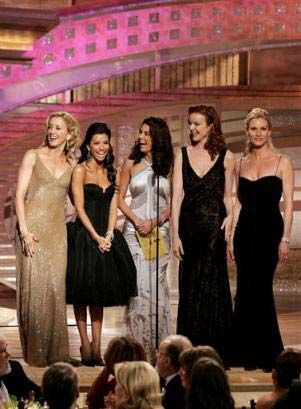 And the ensemble of Desperate Housewives, the sexiest cast, each and every one looked breathtakingly GORGEOUS. Kudos, ladies!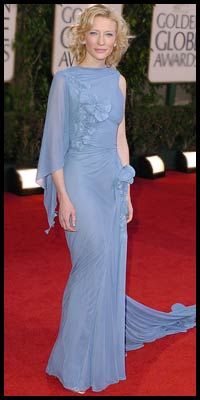 This year, Aviator's Cate Blanchett made it to the top of the BEST list, looking absolutely fabulous in a 1930s-style Jean-Paul Gaultier lavender gown. Now, that is what I call class, once again recalling the glamour of the years gone by.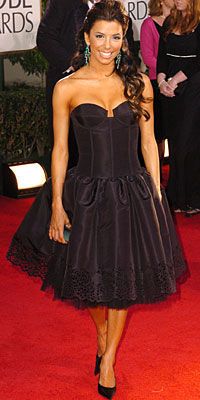 The bad girl of Desperate Housewives, Eva Longoria, sashayed in a black, bustier cocktail dress with delicate eyelet hemline by one of my favorite masters, Mr. Oscar de la Renta. Girl you are the BEST!!
Samuel Jackson oozes with confidence and grace as he steps with anticipation to the microphone in a brown tuxedo, perfectly fitting to the body that just seems filled with self-assurance and sex-appeal.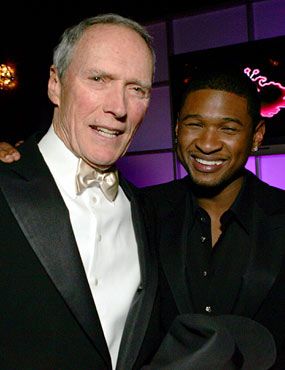 Clint Eastwood reflective of the days of glamour and elegance, taking to the stage as the best director, schmoozing with Usher, while looking like a shiny million bucks. What a classy and an attractive man. Just ask Meredith Viera, who flirted with him shamelessly when he guested on The View recently.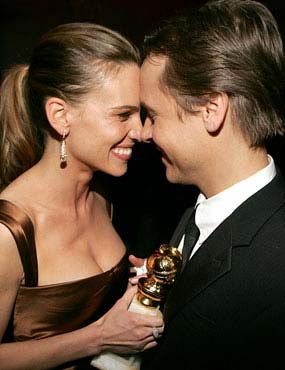 The Best dressed couple of the night! Hilary Swank, after winning for her role in Million Dollar Baby as the lens captures a most intimate moment shared with her husband Chad Lowe whom she called, "My everything." Very cool.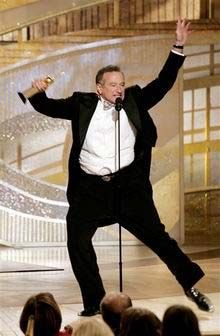 Robin Williams, the Cecil B. DeMille Award Winner, whom we all know is an amazingly brilliant and versatile actor, but after tonight he showed yet another side of himself. What a kind heart beats in this outrageous man. One of the most moving moments of the night, and there were many, came at end of his acceptance speech… "I dedicate this award to the memory of a friend of mine. Chris Reeve, I miss you." Looking to Heaven and quoting Shakespeare's Hamlet, Williams said: "May flights of angels sing thee to thy rest, sweet prince. Thank you and good night."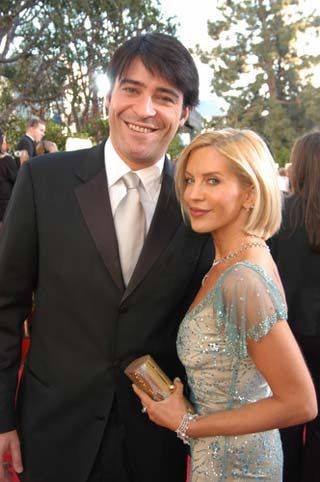 Just ok dressed couple. My countryman, ER's Goran Visnjic with his lovely wife Ivana Vrdoljak, looked unnatural, resembling mannequins in a display window. He is a such hunk. Goran what is with that haircut? And Ivana, no bra doesn't work my dear, get those girls up.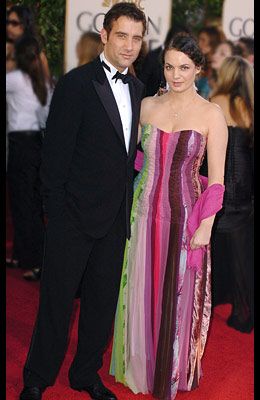 The worst dressed couple: Clive Owen with Sarah-Jane Fento. It is rare that one person makes the worst dressed list twice in the same night. Sadly the very handsome and talented Clive Owen, made it in both worst dreesed male and as couple, Clive, you can't tie your own tie? I won't even touch her dress, it speaks for itself; who is missing a tablecloth?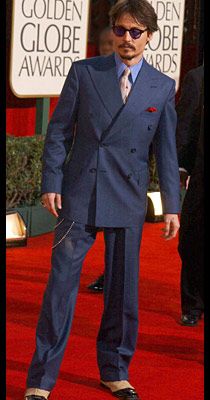 A ganster incognito, the odd fellow Johnny Depp keeps the conversation alive as he shows up in character, I think, and makes it again on the list of the Worst dressed.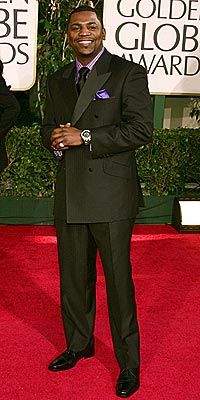 ER's Mekhi Phifer in a black suit paired with a lavender striped shirt, huge bulky watch, accompanied with too much jewelry, looked more like a well-dressed pimp than a Dr. he portrays on ER.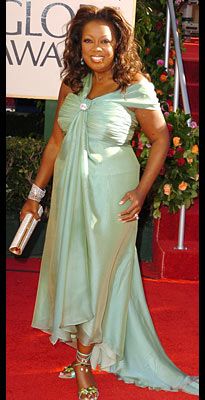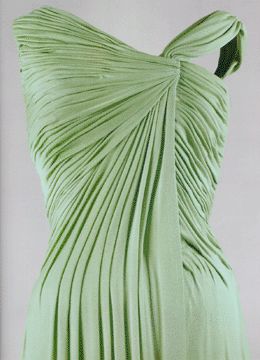 Star Jones Reynolds leads the parade of the Worst dressed, while successfully sabotaging all the hard work getting her new svelte figure and just to cover it with this mummified gown which makes her look like the late Mae West. And who ever tells you how to dress: FIRE THEM. More is not better. Next time leave some of your jewelry in your safe deposit instead. This dress was designed for a flat chested, tall and skinny woman and not for a sexy and voluptuous lady like you.
As clearly can be seen in this 1962 similar design by Oleg Cassini, for Mrs. Kennedy, designed for dinner at the White House honoring Nobel Prize winners of the Western Hemisphere.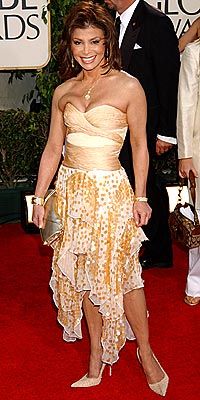 Paula Abdul, why, why, why and again why do you do same things over and over again. Fire whoever is responsible for this masquerade. The breasts look like sourdough over flowing the dress; too tight and whole image is overdone for a such petite woman… All this just to be once again on the worst dressed list. Why do women who work so hard to look great sabotage their image???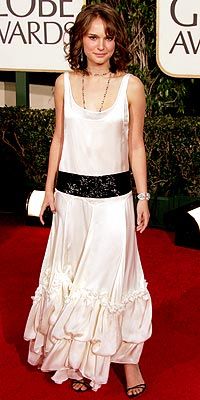 Closer's Natalie Portman, the winner of the best supporting actress, chose and failed tremendously in the outdated flapper gown, which overpowers her small statue.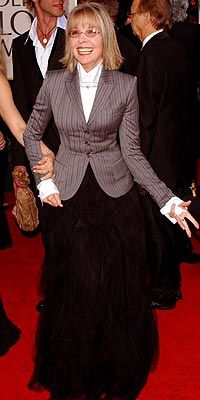 Diane Keaton, Globes presenter, never fails to disappoint the critics as she shows up in an unflattering menswear jacket, worn over a floor-length tulle skirt. What… she couldn't decide to go as man or a woman? Drag queen gone bad.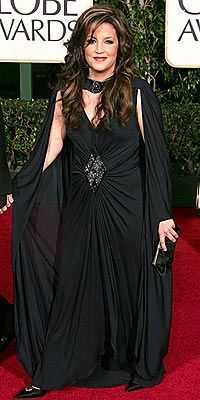 Lisa Marie Presley, what a disaster. I simply hated this Elvira look alike concoction of yard goods. Globes presenter Lisa Marie Presley walked in the wrong store and confused Golden Globes Awards for Halloween? Way too much of everything, from hair to shoes, choker, gown and cape.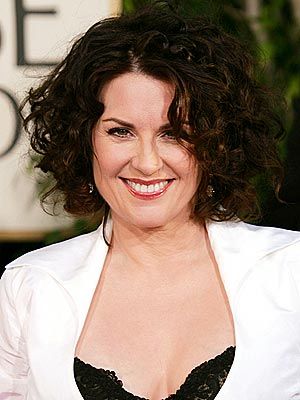 One of my favorite comics, Megan Mullally: Worst of everything, starting with a sloppy hairstyle. It seemed she wore a nightgown with a man's shirt tied over it. You think she would take more time to dress going to the car wash then she did for this elegant affair.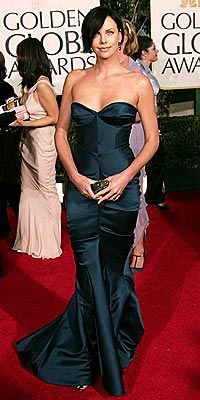 The worst crime, and someone should be arrested for this, was the cruel joke of the stunningly beautiful Charlize Theron in a John Galliano for Christian Dior gown… for this hair cut and most unflattering black hair color.