All the hard work, the talent, spectacular amount of money spent and not withstanding the politics playing a major role in the preparations for the 77th Oscar's are now part of yesterdays dreams.
The big party began with all the glitz and glamour that Hollywood could master. From very chic to ridiculously absurd outfits sashed up and down the red carpet, with hopefuls dreaming that per chance their name be called for the one of the most prestigious awards given to entertainers as recognition for their talents. As the last guest rushed in behind the closed door, party begins with Chris Rock and his great and at times questionable sense of humor. Sorry folks but no ONE can replace the amazing Billy Crystal, who personifies humor with class and intelligence, in one package.
The viewers where privy to some heart felt moving speeches followed with tears and laughter, while some deserving entertainers where recognized for their talents and brilliance the others obviously where snubbed and left wondering why not me?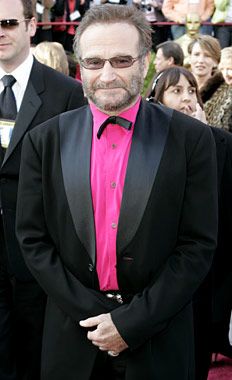 So why did my favorite and brilliant comedian, Robin Williams had to come on the stage with a tape over his mouth to prove the paranoia of FCC? While crowed roared with laughter it makes one wonder how far will FCC go to control the self expression? Since Janet Jackson's incident, it seems their decisions are colored with paranoia. Robin Williams, not to speak his mind? What a waste of time and genius, we might as well turn all TV sets off across all the continents. His image, oh well, he never fails to be unique and uncannily decadent.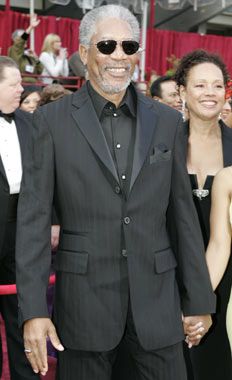 While I so wanted Alan Alda to win, for the best supporting actor in Aviator, when Morgan Freeman's name was announced, there was a loud scream coming form my chest with pure joy. Congratulations to a great artistic interpreter. Somewhere, justice was alert with eyes wide open.
However, I don't understand how this gracious and brilliant actor never hits the right fashion statement for himself. Year after year he sports the scraggly beard and always black on black, sabotaging the image of this superb actor.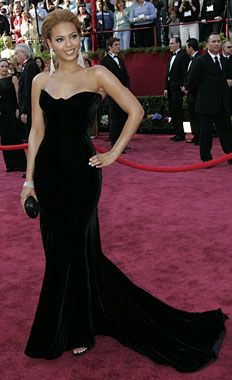 Beyonce looked stunning in Versace's black silk velvet strapless "Siren" gown. Reminiscing of the curvaceous Mae West, her voice, her hair, her makeup was spectacular. Whoever did her makeup, throughout the evening should for sure win an Oscar, such an amazing work of art.
In the course of the evening, she changed her gowns and her hairstyle a number of times. And sorry Oprah, but your protege had to mess it up, by borrowing chandeliers from St. Peter's Cathedral and use them for accessories. What was that ridicules jewelry exhibition around her neck and her ears, during the phantom song performance? In this case, more wasn't better.
The surprise of the evening was the choice to have Beyonce render The Phantom Of The Opera song, while its star, Emmy Rossum, looked on. What a slap in a face. Total disgrace. Academy what were you thinking? Does our lovely Oprah have everyone around her little finger?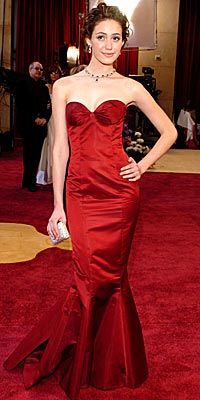 The 19 year old star of the Phantom of the opera, lovely Emmy Rossum in a mermaid crimson Ralph Lauren fishtail gown, looked beautiful, but failed to hide her disappointment.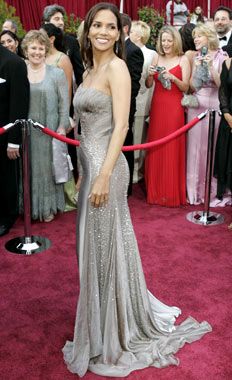 Halle Berry in Versace iridescent taupe silk chiffon gown, in simple words looked exquisite!!! And how lucky for us she landed here on earth, as I am sure this stunning creation is from another planet .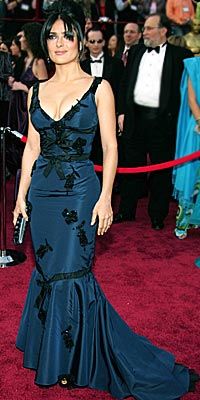 Lady of Spain we adore you and your passionate image. What a great combo of class and sex appeal all in one small package, made her look simple delicious in Prada most flattering gown. Salma Hayek, you rock!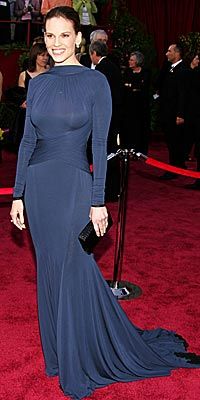 Best actress nominee swanked in a Guy Laroche, a long-sleeve, shirred gown, Hilary Swank looked absolutely stunning!!!! What a body, what a talent, what a human being.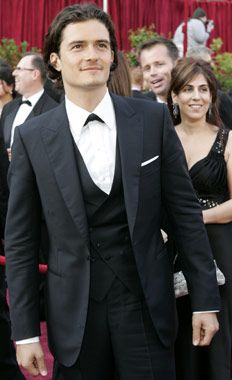 Orlando Bloom in a one-button peak lapel tuxedo with a vest looking smashingly hot.
While there was a difficulty in finding a bad egg among the celebrities, trust me, they didn't escape my trained and scrutinizing eye.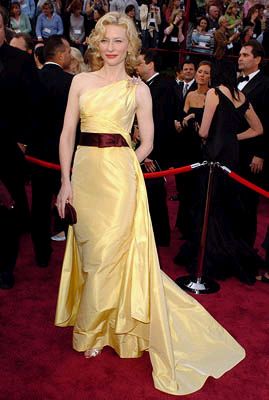 Cate Blanchett portraying the infamous Katherine Hepburn in Aviator, won a very deserving Oscar for the supporting role, looked pale and invisible in a belted yellow gown, and lost the elegance that was hers for the taking.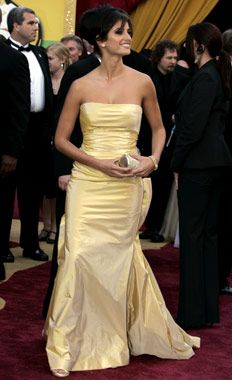 The lovely Penélope Cruz in an Oscar de la Renta strapless gown looked great, making the entrance but exiting the room left stunned onlookers confronted with a huge bow on her tush? The image of a baby with a full diapers, needing to change.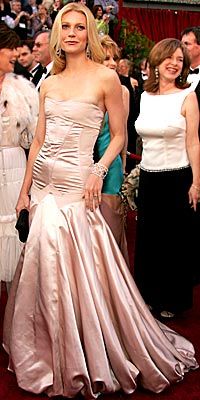 Apple's mom, Gwyneth Paltrow, showed off her post-baby slender figure in a nude silk-and-cotton-voile corset dress, terribly fit and wrong for her body type, designed by Stella McCartney.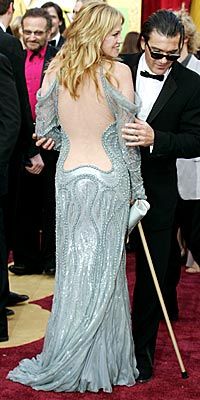 Melanie Griffith, oh Lord, what was she thinking? In a celadon beaded off-the-shoulder Versace, to busy for the lovely actress. It looked like a humongous tattoo.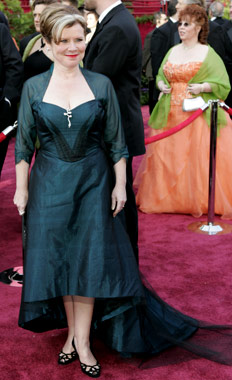 Is this queen Mom or Imelda Staunton, nominee for the best actress in Vera Drake? Without a doubt the most frumpy, boring and uninspiring dress at the Academy and that skunk color across her lovely head is outdated and out of style.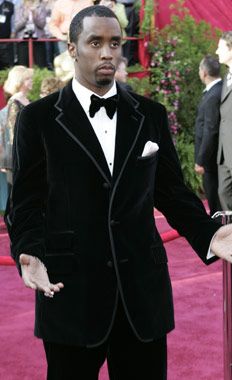 The biggest disappointment of this years Oscars was Sean Combs, whom I adore, love his fashion sense, his high energy and no nonsense entrepreneurial visions, however this time he shamelessly and in a very nouveau riche behavior was name-dropping designers who provided overdone accessories, all this had tone of poor taste and vulgarity.
Never stopping for a breather he proceeded to promote himself, as this and that and totally turned me of. His velour tuxedo (in California?) resembled more Dr. Doolittle's, than a young and successful entrepreneur. Emulate icons in music world who are respected and never overdone or goody. Darling, pay attention to Quincy Jones, and you'll learn what class is.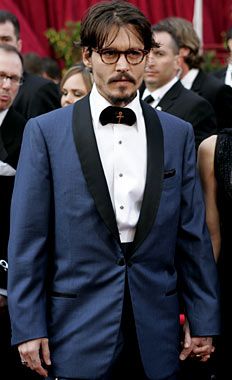 Johnny Depp in a shawl collar blue tuxedo, made "locally" and very poorly tailored, ill fitted and styled. It was horrid and tasteless. And why?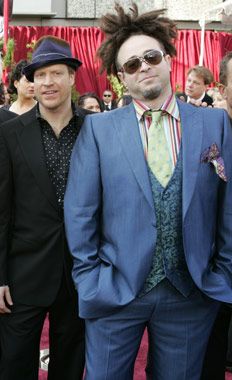 Anyone missing a Chia Pet in a clown's suit? THIS AN ACADEMY AWARD, YOU BABOON!! One day in a year, dress in a suit and not a costume, you missed Halloween.