Learn How to Have More Success, Power and Romance in Your Life
Presented by
Fashion Consultant & Image Expert
Ashley Rothschild
Sunday, November 1, 2009 10:00 am - 5:00 pm
The Luxe Hotel
11461 W. Sunset Boulevard
Los Angeles, CA
One of the greatest discoveries of the last century was in the area of human development. Study after study showed that your self-confidence is a self-fulfilling prophecy.
"What we think we are, we are."
If you want to get ahead of your competition, come and discover what is missing in your presentation and learn how you too can develop your own personal alluring signature style that will attract more money, power and romance into your life.
Ashley Rothschild has over twenty years of senior-level experience empowering Fortune 500-caliber management executives, politicians, celebrities and entertainment industry moguls in redesigning their image and reaching their professional and personal goals beyond their dreams.
Her enthusiasm is contagious and her advice infectious. Join Ashley for an exciting one-day seminar that will launch your career and life style through the roof! Ashley will demonstrate through group exercises, lectures, wardrobe, makeup and hair makeovers, how to discover the key components of a winning image.
Market yourself for success
Command power and learn the skills that will get you ahead of the competition
Create a winning image and build credibility, non-verbally!!!
Use your personal power and presence to get what you want from life
Register now for the seminar or for more information please email The Rothschild Image or call 310-574-6018.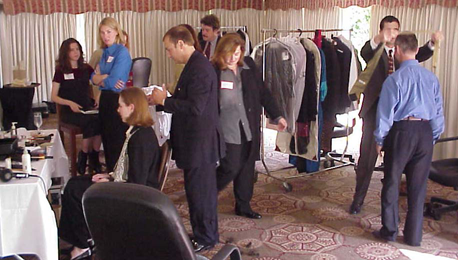 What do clients say?
The wonderful thing about Ashley is her amazing ability to go beneath the images people convey and discover their essential power and passion...... She then transforms their lives and careers by helping them present that truth to the world.

Mr. Michael Hauge
The Award - Winning Author, of Writing Screenplays that Sell
Sherman Oaks, CA
On a personal level the experience of being with Miss Rothschild is one of discovering the beauty within which can be expressed through the image I present to the world. I also am reminded of the abundance and wealth there is in our world when I work with her.

Victoria Szatalowicz, MD
When I employed the services of Miss Rothschild I was completing my Ph.D. at Caltech and was moving my career and lifestyle to new and uncharted territories. Miss Rothschild gave me the image and tools which opened the doors to an amazing new career and a wonderful loving, passionate life, updating my relaxed image to a more professional and appealing presentation!

Dr. Blair Zajac
CEO, OrcaWare Consulting
Marina del Rey, California
Her energetic enthusiasm and commitment enhances her ability to assist others in unlocking their own unlimited potential to achieve success. She uses her experience and her highly developed intuitive qualities to identify and break through old ideas and behavior patterns that hold individuals back, as she believes: `What ever you think you are, you are.'

Peggy Reed
Advertising Content Developer/Writer
Dear Ashley,
Giving ourselves "permission" to be all that we can be is a most powerful tool! Thank you for your contagious energy and your honest approach in help me to transform. Your talents are truly a gift.
Most sincerely,

Diana Stein
For information on the one day seminar or S.T.A.R. POWER: A Professional Image Consultant Training Program, an elite, intensive training program for ambitious entrepreneurs who wish to become highly successful, professional image consultants, please call or email The Rothschild Image today: 310-574-6018 or email ashley@rothschildimage.com.